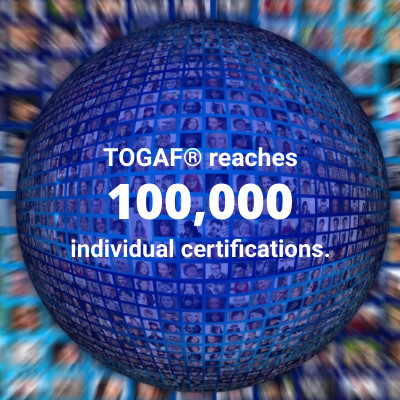 Copyright © The Open Group 2020
The Open Group is very pleased to announce the number of individual certifications worldwide in the TOGAF® 9 certification program has passed the major milestone of 100,000.
TOGAF 9 certification is the trusted vendor-neutral and globally recognized certification for the TOGAF Standard, the open Enterprise Architecture standard used by the world's leading organizations to improve their business efficiency.
Why should you get TOGAF 9 certified?
TOGAF Certification is widely referenced in recruitment, and regularly features in the top three certifications in the IT Skills & Certification Pay Index, from Foote Partners LLC. Moreover, surveys show that companies are paying an 8-13% premium for TOGAF Certified Enterprise Architects compared to their non-certified counterparts.
The certification program is truly global, with individuals from 149 different countries included on the register. While well-established in both the USA and Europe, the program has seen significant growth in Asia more recently.
How to get TOGAF 9 certified?
iLEARN - Innovative Learning is an Accredited Training Centre (ATC) of The Open Group. Find more information about our online and classroom trainings at this link.
For further information about The Open Group, please click here.