iLEARN is an ATO (Accredited Training Organization)
of APMG for COBIT5 Foundation course.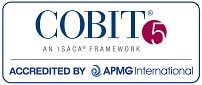 For an online verification of accreditments, do a research with
ICONS - Innovative Consulting S.r.l. of which iLEARN is a business unit.
COBIT - Control Objectives for Information and related Technology is the IT governance framework originally created by ISACA, Information Systems Audit and Control Association and subsequently managed in partnership by the latter with the IT Governance Institute (ITGI). This framework has now reached its fifth version, named COBIT 5.
The course, articulated in theoric and interactive sessions, addresses the issue of IT governance and illustrates the structure, basic concepts and objectives of the COBIT framework.
Classroom courses are confirmed approximately three weeks before the actual start of the course, reaching the minimum number of participants required. For this reason, please, contact us before making any payments.
Course start date
16-04-2018
Course end date
17-04-2018
Objectives
The COBIT 5 Foundation course assures, at the end of the course, that the participants will be able, in relation to their own specific company, to understand how the application of the best practice will allow them to achieve the necessary level of IT governance and be able to apply the framework in practical situations.
Who it is aimed at
IT auditors, IT managers, those responsible for IT quality or IT processes and IT professionals who want to learn more about the area of IT governance.
Contents
The principles of IT Governance;
COBIT 5, structure, basic concepts and objectives;
Interactive sessions, practical examples and case studies to show how the framework can be used;
The necessary level of It Governance.
Provided material:
Student manual: slides presented by accredited teacher with explanations
Exercises
1 official mock exam
Prerequisites
It is advisable to have at least two years experience in the field of IT governance.
To take the exam you must have read and accepted the terms and condition of examination institute. The acceptance of such terms and conditions will have to be confirmed when taking the exam.
Material course language
English
Certification
COBIT 5 Foundation official certificate
COBIT® 5 Foundation classroom course in Spanish from 16 April 2018 in Valencia lasting 2 days provided by iLEARN Innovative Learning