CompTIA CASP+ Courses
CompTIA CASP+ training courses, labs and certification exams
Summary of Topics
Availability and prices of CompTIA CASP+ courses
CompTIA CASP+ online courses (e-learning)
In this showcase you will find a selection of online training courses concerning CompTIA CASP+ certification.
If you do not see a specific CompTIA CASP+ course, CompTIA CASP+ exam or a specific exam version, please contact us.
CompTIA CASP+ online exam
In this showcase you will be able to purchase CompTIA CASP+ exam voucher only to take the online exam through Pearson VUE, in test centers or in online modality.
iLEARN is a CompTIA Delivery Partner
for CompTIA CASP+ courses and exams


What is CompTIA CASP+?
CompTIA Advanced Security Practitioner (CASP+) is an advanced cybersecurity certification for security architects and senior security engineers responsible for leading and improving an organization's cybersecurity readiness.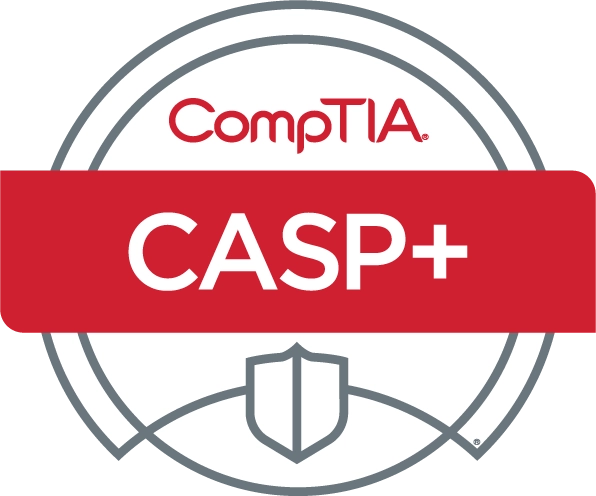 Why CompTIA CASP+?
Information security threats are increasing worldwide. Organizations are increasingly concerned about the lack of trained IT security personnel who can effectively direct and manage overall cybersecurity resiliency for the next attack. CASP+ aligns with the advanced skills security architects and senior security engineers need to effectively design, implement, and manage cybersecurity solutions in complex enterprise networks.
Here below you can find some fundamental reasons to choose CASP+ certification:
CASP+ is the only practice-based certification in advanced cybersecurity skills for senior practitioners, not managers. While cybersecurity managers help determine what cybersecurity policies and frameworks can be implemented, CASP+ certified professionals discover how to implement solutions within those policies and frameworks.
Unlike other certifications, CASP+ covers security architecture and engineering. CASP+ is the only one on the market that qualifies technology leaders to assess an organization's network readiness and design and implement the right solutions to ensure companies are prepared for the next attack certification.
Calculate your potential salary with CompTIA CASP+ certification with the salary calculator.
What is CompTIA CASP+ useful for?
CASP+ is an advanced cybersecurity certification that demonstrates security architecture and advanced security engineering technical skills, governance, risk, and compliance skills in traditional, cloud, and hybrid environments, assessing an organization's cybersecurity readiness, and enterprise-wide implementation 's leading technical team includes cybersecurity solutions. CompTIA CASP+ helps you gain the knowledge you need to:
Design, develop, integrate and deploy security solutions in complex environments to support the resilient enterprise
Proactively support ongoing security operations in enterprise environments using monitoring, detection, incident response, and automation
Apply security practices to cloud, on-premises, endpoint and mobile infrastructure, taking into account encryption techniques
Consider the impact of governance, risk and compliance requirements across the enterprise
CASP+ is compliant with ISO 17024 standards and approved by the US DoD to meet directive 8140/8570.01-M requirements.
Discover if CompTIA CASP+ certification is the right choice for your career path.
Check all the CompTIA certifications for cybersecurity to choose the best one for your needs.
How can I study for CompTIA CASP+ exam?
iLEARN provides a selection of training options and exam material to prepare for CompTIA CASP+ exam:
E-Learning (self-paced): training provided through an online learning management system from anywhere and anytime
Virtual Labs: virtual laboratory environments designed to address practical and performance-based aspects of th exam preparation
Practice Tests (mock exam): an adaptable and realistic practice test experience that works well as a follow-up to other training as it really diagnoses the knowledge gaps and then trains in the areas of weakness
Read this CompTIA article to get some tips on how to handle the exam preparation journey.
What is the latest CompTIA CASP+ version?
The latest version of CompTIA CASP+ certification available at the moment is CompTIA CASP+ CAS-004, released in October 2021.
CompTIA CASP+ certification renewal
CompTIA CASP+ certificate expires three years from the date a candidate earned it and it must be renewed before its expiration date, through the CompTIA Continuing Education (CE) Program. In order to renew the certificate, candidate must:
Complete a CertMaster CE (online self-paced CE course) OR
Collect at least 75 Continuing Education Units (CEUs)
Learn more about the CompTIA Continuing Education Program.

Details about CompTIA CASP+ course