CompTIA CySA+ Courses
CompTIA CySA+ training courses, labs and certification exams
Summary of Topics
Availability and prices of CompTIA CySA+ courses
CompTIA CySA+ online courses (e-learning)
In this showcase you will find a selection of online training courses concerning CompTIA CySA+ certification.
If you do not see a specific CompTIA CySA+ course, CompTIA CySA+ exam or a specific exam version, please contact us.
CompTIA CySA+ online exam
In this showcase you will be able to purchase CompTIA CySA+ exam voucher only to take the online exam through Pearson VUE, in test centers or in online modality.
iLEARN is a CompTIA Delivery Partner
for CompTIA CySA+ courses and exams


What is CompTIA CySA+?
CompTIA Cybersecurity Analyst (CySA+) is a performance-based cybersecurity analytics qualification in the CompTIA cybersecurity field.
With proven expertise in security analysis, intrusion detection, and response, CompTIA Cybersecurity Analyst (CySA+) certified candidates are in extremely high demand for companies dealing with the latest technology, threats, and expectations of the Digital Age.
Practitioners can also identify and combat malware and advanced persistent threats (APTs), enhancing threat visibility across different network types.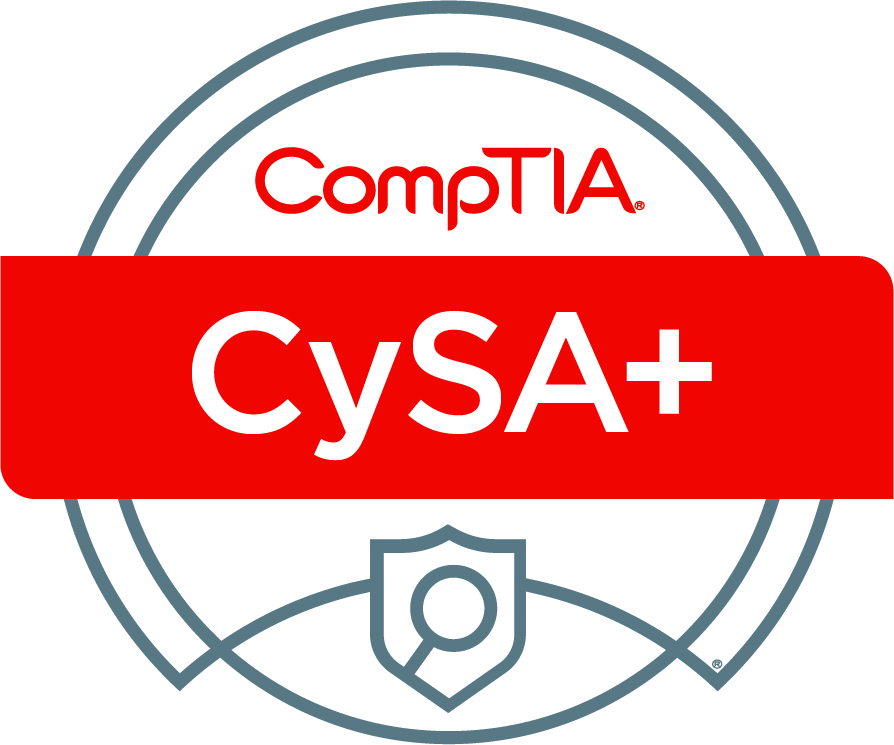 Why CompTIA CySA+?
There are many reasons to choose CompTIA CySA+ training and certification:
CySA+ not only focuses on the candidate's ability to proactively collect, monitor and respond to network traffic, it also emphasizes software and application security, automation, threat hunting and IT compliance that impact the day-to-day work of security analysts.
The CompTIA Cybersecurity Analyst (CySA+) exam has performance-based questions covering intrusion detection, security analytics, and responses. Passing the exam will instantly validate a candidate's knowledge and abilities in these areas
Several leading organizations contributed to the development of the CySA+ exam, including the U.S. Navy, Target, Washington State Patrol, Linux Professional Institute, and BlacKnight Cyber Security International
Calculate your potential salary with CompTIA CySA+ certification with the salary calculator.
What is CompTIA CySA+ useful for?
As attackers have learned to bypass traditional signature-based solutions such as firewalls and antivirus software, analytics-based approaches are becoming increasingly important to organizations in the IT security industry.
CompTIA CySA+ applies behavioral analytics to networks to improve the overall state of security through identifying and combating malware and advanced persistent threats (APTs), resulting in an enhanced threat visibility across a broad attack surface. It will validate an IT professional's ability to proactively defend and continuously improve the security of an organization.
Through CySA+ certification, candidates will prove their knowledge and skills obtained to:
Leverage intelligence and threat detection techniques
Analyze and interpret data
Identify and address vulnerabilities
Suggest preventative measures
Effectively respond to and recover from incidents
Discover if CompTIA CySA+ certification is the right choice for your career path.
How can I study for CompTIA CySA+ exam?
iLEARN provides a selection of training options and exam material to prepare for CompTIA CySA+ exam:
E-Learning (self-paced): training provided through an online learning management system from anywhere and anytime
Virtual Labs: virtual laboratory environments designed to address practical and performance-based aspects of th exam preparation
Practice Tests (mock exam): an adaptable and realistic practice test experience that works well as a follow-up to other training as it really diagnoses the knowledge gaps and then trains in the areas of weakness
Read this CompTIA article to get some tips on how to handle the exam preparation journey.
What is the latest CompTIA CySA+ version?
The latest version of CompTIA CySA+ certification available at the moment is CompTIA CySA+ CS0-003, released in June 2023.
CompTIA CySA+ certification renewal
CompTIA CySA+ certificate expires three years from the date a candidate earned it and it must be renewed before its expiration date, through the CompTIA Continuing Education (CE) Program. In order to renew the certificate, candidate must:
Complete a CertMaster CE (online self-paced CE course) OR
Collect at least 60 Continuing Education Units (CEUs)
Learn more about the CompTIA Continuing Education Program.

Details about CompTIA CySA+ course