CompTIA Security+ Courses
CompTIA Security+ training courses, labs and certification exams
Summary of Topics
Availability and prices of CompTIA Security+ courses
CompTIA Security+ online courses (e-learning)
In this showcase you will find a selection of online training courses and self-study material (eBook) concerning CompTIA Security+ certification.
If you do not see a specific CompTIA Security+ course, CompTIA Security+ exam or a specific exam version, please contact us.
CompTIA Security+ Virtual Labs and Practice Test
In this showcase you will be able to purchase a selection of official CompTIA Security+ exam preparation material and tools.
To better prepare for the final certification exam, you can purchase the CompTIA Security+ Virtual Labs and the official Practice Test to simulate the real exam experience.
CompTIA Security+ online exam
In this showcase you will be able to purchase CompTIA Security+ exam voucher only to take the online exam through Pearson VUE, in test centers or in online modality.
iLEARN is a CompTIA Delivery Partner
for CompTIA Security+ courses and exams


What is CompTIA Security+?
CompTIA Security+ is a globally recognized certification in the CompTIA cybersecurity field. It verifies basic vendor-neutral IT security knowledge and skills, making it an essential stepping stone to start and grow a successful career in the field of IT and cybersecurity. This trusted credential not only validates your foundational understanding of information security but also demonstrates your competence in addressing various security challenges and implementing effective security measures.
With the CompTIA Security+ cert in your arsenal, you gain a competitive edge in the job market, as employers recognize and value the expertise and versatility that this certification brings to their organizations. Whether you're a seasoned professional looking to enhance your skills or an aspiring newcomer seeking a rewarding career in IT, CompTIA Security+ serves as a crucial validation of your abilities and dedication to information security excellence.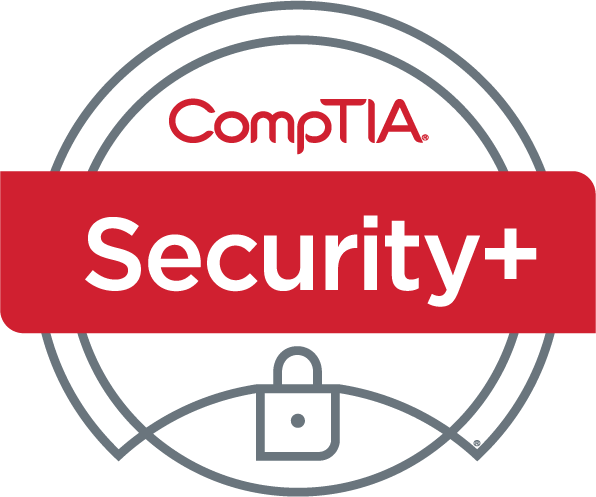 Why CompTIA Security+?
There are several reasons to choose CompTIA Security+ certification:
CompTIA Security+ is the most chosen certification than any other by corporations and defense to validate essential security skills and meet DoD 8570 compliance.
CompTIA Security+ is the only core cybersecurity certification that emphasized practical skills and ensures that security professionals are better prepared to tackle today's broader complex problems.
More job roles turn to CompTIA Security+ to supplement basic cybersecurity skills to protect systems, software and hardware
CompTIA Security+ is aligned to the latest trends and technologies and covers key technical skills in risk assessment and management, incident response, forensics, enterprise networking, hybrid/cloud operations and security controls to ensure high performance on the job.
Calculate your potential salary with CompTIA Security+ certification with the salary calculator.
What is CompTIA Security+ useful for?
The Security+ certification level of Comptia is is recommended as the first security certification to earn. It covers the core knowledge for necessary for any cybersecurity role and provides a steppingstone to mid-level cybersecurity jobs. CompTIA Security+ incorporates best practices in practical troubleshooting and ensures candidates gained the security problem-solving skills to:
Assess the security posture of the organization's environment and recommend and implement appropriate security solutions
Monitor and secure hybrid environments, including cloud, mobile, and IoT
Understand applicable laws and regulations, including governance, risk and compliance principles
Identify, analyze, and respond to security events and incidents
Discover if CompTIA Security+ certification is the right choice for your career path.
Check all the CompTIA certifications for cybersecurity to choose the best one for your needs.
How can I study for CompTIA Security+ exam?
iLEARN provides a selection of training options and exam material to prepare for CompTIA Security+ exam:
E-Learning (self-paced): training provided through an online learning management system from anywhere and anytime
Self-study material: electronic material (eBook - CompTIA Study Guide) to be studied autonomously
Virtual Labs: virtual laboratory environments designed to address practical and performance-based aspects of th exam preparation
Practice Tests (mock exam): CompTIA Security+ practice test is an adaptable and realistic practice test experience that works well as a follow-up to other training as it really diagnoses the knowledge gaps and then trains in the areas of weakness
Read this CompTIA article to get some tips on how to handle the exam preparation journey.
What is the latest CompTIA Security+ version?
The latest version of CompTIA Security+ certification is CompTIA Security+ SY0-701.
Updates to CompTIA Security+ reflect skills relevant to cybersecurity job roles and prepare candidates to be more proactive in preventing the next attack. To combat these emerging threats, IT professionals must be able to:
Help identify attacks and vulnerabilities and mitigate them before they penetrate IS
Understand secure virtualization, secure application deployment, and automation concepts
Identify and implement the best protocols and encryption
Understand the importance of compliance
CompTIA Security+ certification renewal
CompTIA Security+ certificate expires three years from the date a candidate earned it and it must be renewed before its expiration date, through the CompTIA Continuing Education (CE) Program. In order to renew the certificate, candidate must:
Complete a CertMaster CE (online self-paced CE course) OR
Collect at least 50 Continuing Education Units (CEUs)
Learn more about the CompTIA Continuing Education Program.

Details about CompTIA Security+ course