CompTIA A+ Courses
CompTIA A+ training courses, labs and certification exams
Summary of Topics
Availability and prices of CompTIA A+ courses
CompTIA A+ online courses (e-learning)
In this showcase you will find a selection of online training courses and self-study material (eBook) concerning CompTIA A+ certification.
If you do not see a specific CompTIA A+ course, CompTIA A+ exam or a specific exam version, please contact us.
CompTIA A+ Virtual Labs
In this showcase you will be able to purchase a selection of official CompTIA A+ exam preparation material and tools.
To better prepare for the final certification exam, you can purchase the CompTIA A+ Virtual Labs.
CompTIA A+ online exam
In this showcase you will be able to purchase CompTIA A+ exam voucher only to take the online exam through Pearson VUE, in test centers or in online modality.
iLEARN is a CompTIA Delivery Partner
for CompTIA A+ courses and exams


What is CompTIA A+?
CompTIA A+ is the industry standard for launching IT careers into today's digital world. Through this certification candidates will be certified as proven problem solvers to support current core technologies, such as security, networking, virtualization, etc.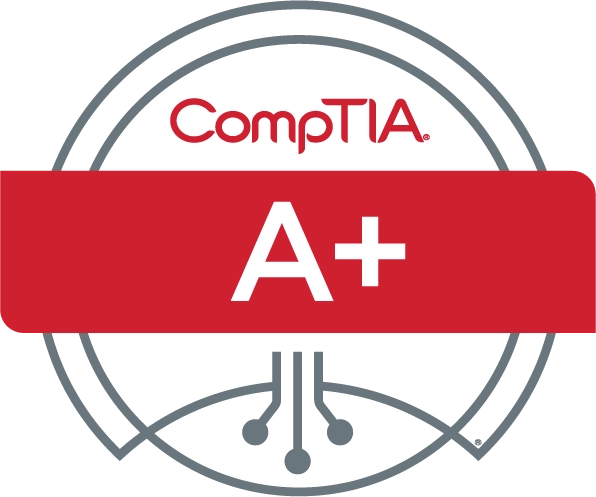 Why CompTIA A+?
CompTIA A+ is the only industry-recognized credential that uses proficiency testing to demonstrate that professionals can think fast to perform critical IT support roles. He is trusted by employers around the world to identify contacts for endpoint management and technical support. CompTIA A+ appears in technical support jobs more than any other IT credential.
CompTIA A+ provides a holistic view of the fundamentals of IT operations and support. According to the U.S. Bureau of Labor Statistics, CompTIA-certified employees with less than one year of work experience demonstrate more knowledge than non-certified employees with three years of work experience
CompTIA A+ certification is increasingly required for positions.
CompTIA performance qualifications are highly valued by employees as they validate skills and knowledge
The CompTIA A+ core family has recently been expanded to address growing areas of IT support such as: B. Security, Operating Procedures, Networking and Connectivity
Calculate your potential salary with CompTIA A+ certification with the salary calculator.
What is CompTIA A+ useful for?
After passing the two exams included in the CompTIA A+ Core Series, Core 1 (220-1101) and Core 2 (220-1102), candidates will learn about the following IT technologies and skills:
Increased reliance on SaaS applications for remote work
Learn more about troubleshooting and remotely diagnosing and correcting common software, hardware or connectivity issues
Shift core technologies from cloud virtualization and IoT device security to data management and scripting
Several operating systems that technicians now encounter frequently, including critical systems, their use cases, and how to run them correctly
Reflecting the changing nature of job roles, many tasks are sent to specialist suppliers as certifiers have to assess whether something is best fixed in the field, or save time and money by providing know-how directly to the supplier
Discover if CompTIA A+ certification is the right choice for your career path.
How can I study for CompTIA A+ exam?
iLEARN provides a selection of training options and exam material to prepare for CompTIA A+ exam:
E-Learning (self-paced): training provided through an online learning management system from anywhere and anytime
Self-study material: electronic material (eBook - CompTIA Study Guide) to be studied autonomously
Virtual Labs: virtual laboratory environments designed to address practical and performance-based aspects of th exam preparation
Practice Tests (mock exam): an adaptable and realistic practice test experience that works well as a follow-up to other training as it really diagnoses the knowledge gaps and then trains in the areas of weakness
Read this CompTIA article to get some tips on how to handle the exam preparation journey.
What is the latest CompTIA A+ version?
The latest versions of CompTIA A+ exams are CompTIA A+ 220-1101 (Core 1) and 220-1102 (Core 2).
CompTIA A+ 220-1101 covers mobile devices, networking technology, hardware, virtualization and cloud computing.
CompTIA A+ 220-1102 covers operating systems, security, software and operational procedures.
CompTIA A+ certification renewal
CompTIA A+ certificate expires three years from the date a candidate earned it and it must be renewed before its expiration date, through the CompTIA Continuing Education (CE) Program. In order to renew the certificate, candidate must:
Complete a CertMaster CE (online self-paced CE course) OR
Collect at least 20 Continuing Education Units (CEUs)
Learn more about the CompTIA Continuing Education Program.
Details about CompTIA A+ course