CompTIA Cloud+ Courses
CompTIA Cloud+ training courses, labs and certification exams
Summary of Topics
Availability and prices of CompTIA Cloud+ courses
CompTIA Cloud+ online courses (e-learning)
In this showcase you will find a selection of online training courses concerning CompTIA Cloud+ certification.
If you do not see a specific CompTIA Cloud+ course, CompTIA Cloud+ exam or a specific exam version, please contact us.
CompTIA Cloud+ Virtual Labs and Practice Test
In this showcase you will be able to purchase a selection of official CompTIA Cloud+ exam preparation material and tools.
To better prepare for the final certification exam, you can purchase the CompTIA Cloud+ Virtual Labs and the official Practice Test to simulate the real exam experience.
CompTIA Cloud+ online exam
In this showcase you will be able to purchase CompTIA Cloud+ exam voucher only to take the online exam through Pearson VUE, in test centers or in online modality.
iLEARN is a CompTIA Delivery Partner
for CompTIA Cloud+ courses and exams


What is CompTIA Cloud+?
CompTIA Cloud+ is a certification recognized worldwide to prove the skills necessary to deploy and automate secure cloud environments in order to support the availability of business systems and data.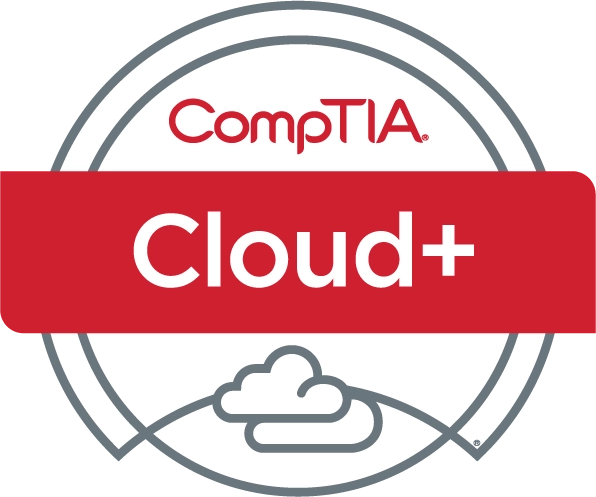 Why CompTIA Cloud+?
There are several reasons to choose CompTIA Cloud+ certification:
Organizations face a severe shortage of staff with skills to manage and improve cloud environments
Cloud and multi-cloud environments are becoming more commonplace in the enterprise. CompTIA Cloud+ provides the perfect solution for cloud engineers who need to understand different systems and products
CompTIA Cloud+ is the only cloud-centric qualification compliant with DoD 8570.01-M. This makes it a viable infrastructure option for those looking to gain CSSP Analyst, CSSP Infrastructure Support, and IAM Level 1 role certification
Calculate your potential salary with CompTIA Cloud+ certification with the salary calculator.
What is CompTIA Cloud+ useful for?
CompTIA Cloud+ is the only performance-based IT certification that considers cloud-based infrastructure services, regardless of platform, in the context of broader IT system operations. Moving to the cloud presents an opportunity to deploy, optimize and secure mission-critical applications and data storage.
CompTIA Cloud+ proves that candidates have obtained the necessary skills to secure these assets.
The reality of operating a multi-cloud environment presents us with new challenges. CompTIA Cloud+ is the right choice for cloud engineers that need to obtain the necessary expertise for multiple products and systems.
How can I study for CompTIA Cloud+ exam?
iLEARN makes available the training to achieve CompTIA Cloud+ courses in the following modalities:
E-Learning (self-paced): training provided through an online learning management system from anywhere and anytime
Self-study material: electronic material (eBook - CompTIA Study Guide) to be studied autonomously
Virtual Labs: virtual laboratory environments designed to address practical and performance-based aspects of th exam preparation
Practice Tests (mock exam): an adaptable and realistic practice test experience that works well as a follow-up to other training as it really diagnoses the knowledge gaps and then trains in the areas of weakness
Read this CompTIA article to get some tips on how to handle the exam preparation journey.
What is the latest CompTIA Cloud+ version?
The latest version of CompTIA Cloud+ certification is CompTIA Cloud+ CV0-003, released on June 2021.
The new CompTIA Cloud+ covers in more detail the skills and capacities demanded to act in the cloud and checks that candidates have the technical experience necessary to configure, secure and automate environments independently of vendor solution
There are new updates concerning CompTIA Cloud+ exam spheres:
High availability is now its own objective and is underlined as an important element in disaster recovery and security measures.
Automating & virtualizing content including methods such as continuous integration and continuous delivery ensure candidates have the skills to optimize the cloud to meet business needs.
Cloud architecture has been added as a field, emphasizing the importance of understanding the foundational technologies and concepts that make up the cloud.

CompTIA Cloud+ certification renewal
CompTIA Cloud+ certificate expires three years from the date a candidate earned it and it must be renewed before its expiration date, through the CompTIA Continuing Education (CE) Program. In order to renew the certificate, candidate must:
Complete a CertMaster CE (online self-paced CE course) OR
Collect at least 50 Continuing Education Units (CEUs)
Learn more about the CompTIA Continuing Education Program.

Details about CompTIA Cloud+ course