CompTIA Linux+ Courses
CompTIA Linux+ training courses, labs and certification exams
Summary of Topics
Availability and prices of CompTIA Linux+ courses
CompTIA Linux+ online courses (e-learning)
In this showcase you will find a selection of online training courses and self-study material (eBook) concerning CompTIA Linux+ certification.
If you do not see a specific CompTIA Linux+ course, CompTIA Linux+ exam or a specific exam version, please contact us.
CompTIA Linux+ Virtual Labs and Practice Test
In this showcase you will be able to purchase a selection of official CompTIA Linux+ exam preparation material and tools.
To better prepare for the final certification exam, you can purchase the CompTIA Linux+ Virtual Labs and the official Practice Test to simulate the real exam experience.
CompTIA Linux+ online exam
In this showcase you will be able to purchase CompTIA Linux+ exam voucher only to take the online exam through Pearson VUE, in test centers or in online modality.
iLEARN is a CompTIA Delivery Partner
for CompTIA Linux+ courses and exams

What is CompTIA Linux+?
CompTIA Linux+ is an advanced certification for those who will use Linux to manage a wide range of elements, such as cars, smartphones, servers and supercomputers. This is because a huge number of enterprises use Linux in cloud, cybersecurity, mobile and web administration applications.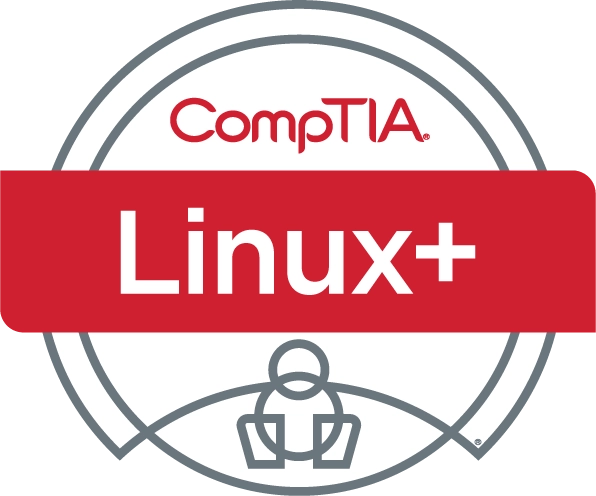 Why CompTIA Linux+?
There are many reasons to choose CompTIA Linux+ certification:
CompTIA Linux+ is the only Linux professional certification covering the latest foundational skills and is in high demand by employers

CompTIA Linux+ exams are partially performance-based, so this will validate promptly candidates' ability to apply the syllabus in the real world

CompTIA Linux+ is very relevant because it covers all major Linux distributions. This provides a solid foundation for advanced supplier or distribution specific knowledge

This CompTIA Linux+ course focuses entirely on the skills needed to support and manage IT infrastructure
Calculate your potential salary with CompTIA Linux+ certification with the salary calculator.
What is CompTIA Linux+ useful for?
CompTIA Linux+ is suited for professionals working with Linux-based systems. It covers everything required to support IT infrastructures, including infrastructure management, cybersecurity, and cloud management. It has also recently been revised to focus on the latest topics, such as:
Kernel models

Storage & visualization

Security

Networking & firewalls
Git & automation

Enterprise-level device management

Server-side & command line

Server coverage

SELinux
Read this CompTIA article to learn more about the opportunities Linux+ will give you.
How can I study for CompTIA Linux+ exam?
iLEARN provides a selection of training options and exam material to prepare for CompTIA Linux+ exam:
E-Learning (self-paced): training provided through an online learning management system from anywhere and anytime
Self-study material: electronic material (eBook – CompTIA Study Guide) to be studied autonomously
Virtual Labs: virtual laboratory environments designed to address practical and performance-based aspects of the exam preparation
Practice Tests (mock exams): an adaptable and realistic practice test experience that works well as a follow-up to other training as it really diagnoses your knowledge gaps and then trains you in your areas of weakness

.
Read this CompTIA article to get some tips on how to handle the exam preparation journey.
What is the latest CompTIA Linux+ version?
The latest version of CompTIA Linux+ certification available at the moment is CompTIA Linux+ XK0-005 released in July 2022.


CompTIA Linux+ certification renewal
CompTIA Linux+ certificate expires three years from the date a candidate earned it and it must be renewed before its expiration date, through the CompTIA Continuing Education (CE) Program. In order to renew the certificate, candidate must:
Complete a CertMaster CE (online self-paced CE course) OR
Collect at least 50 Continuing Education Units (CEUs)
Learn more about the CompTIA Continuing Education Program.

Details about CompTIA Linux+ course