CompTIA Network+ Courses
CompTIA Network+ training courses, labs and certification exams
Summary of Topics
Availability and prices of CompTIA Network+ courses
CompTIA Network+ online courses (e-learning)
In this showcase you will find a selection of online training courses and self-study material (eBook) concerning CompTIA Network+ certification.
If you do not see a specific CompTIA Network+ course, CompTIA Network+ exam or a specific exam version, please contact us.
CompTIA Network+ Virtual Labs and Practice Test
In this showcase you will be able to purchase a selection of official CompTIA Network+ exam preparation material and tools.
To better prepare for the final certification exam, you can purchase the CompTIA Network+ Virtual Labs and the official Practice Test to simulate the real exam experience.
CompTIA Network+ online exam
In this showcase you will be able to purchase CompTIA Network+ exam voucher only to take the online exam through Pearson VUE, in test centers or in online modality.
iLEARN is a CompTIA Delivery Partner
for CompTIA Network+ courses and exams


What is CompTIA Network+?
CompTIA Network+ is a performance-based qualification that focuses on the fundamental knowledge and skills to troubleshoot, configure, and manage wired and wireless networks in an organization.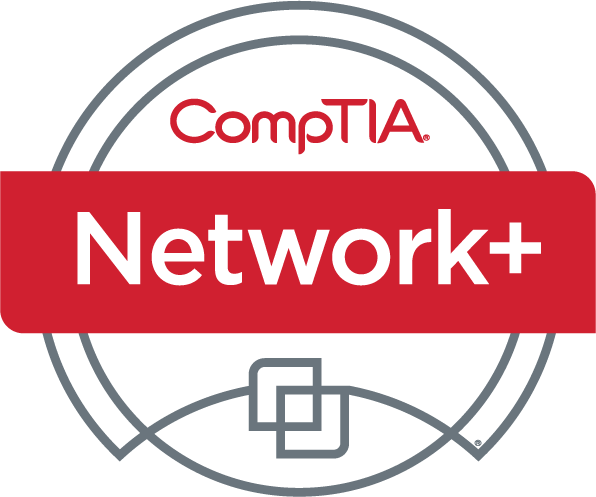 Why CompTIA Network+?
Unlike other certifications on the market, CompTIA Network+ teaches how to support a network regardless of the platform, creating the foundation for specialization in vendor solutions
It covers essential areas like disaster recovery, device hardening, and network virtualization to help keep networks resilient
It is the only industry certification on the market covering both wired and wireless networks
The demand for skills relating to network security is increasing. According to the U.S. Bureau of Labor Statistics, there is an expected job growth of 12% in Network & Computer Systems Administrators for 2012-2022. Around 28% of organizations also claim to have a shortage of network security specialists
Calculate your potential salary with CompTIA Network+ certification with the salary calculator.
What is CompTIA Network+ useful for?
CompTIA Network+ verifies the skills needed to implement enterprise-grade wired and wireless networking solutions; identify and resolve network performance issues; and harden the network against threats to mitigate security breaches. Areas of focus include:
IP addressing and connecting networks
Wireless standards and technologies
Network availability
Securing and hardening networks
Troubleshooting
Discover if CompTIA Network+ certification is the right choice for your career path.
How can I study for CompTIA Network+ exam?
iLEARN provides a selection of training options and exam material to prepare for CompTIA Network+ exam:
E-Learning (self-paced): training provided through an online learning management system from anywhere and anytime
Self-study material: electronic material (eBook - CompTIA Study Guide) to be studied autonomously
Virtual Labs: virtual laboratory environments designed to address practical and performance-based aspects of th exam preparation
Practice Tests (mock exam): an adaptable and realistic practice test experience that works well as a follow-up to other training as it really diagnoses the knowledge gaps and then trains in the areas of weakness
Read this CompTIA article to get some tips on how to handle the exam preparation journey.
What is the latest CompTIA Network+ version?
The latest version of CompTIA Security+ certification is CompTIA Network+ N10-008. The previous version N10-007 will be retired on 30th June 2022.
The new version includes the following features:
Network architecture, with more emphasis on software-defined networking
Emerging wireless standards and technologies
Network performance monitoring and high availability as separate objectives
Network security simplified to focus on the most important parts of protecting networks from malicious attacks
CompTIA Network+ certification renewal
CompTIA Network+ certificate expires three years from the date a candidate earned it and it must be renewed before its expiration date, through the CompTIA Continuing Education (CE) Program. In order to renew the certificate, candidate must:
Complete a CertMaster CE (online self-paced CE course) OR
Collect at least 30 Continuing Education Units (CEUs)
Learn more about the CompTIA Continuing Education Program.

Details about CompTIA Network+ course