TOGAF® 9 Level 1 & 2; Level 1 - ONE-to-ONE 4Hours with exam online course with coaching in English provided by iLEARN Innovative Learning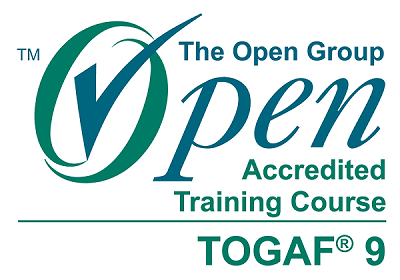 The TOGAF® Standard, Version 9.2, is an update to the TOGAF® 9.1 standard providing improved guidance, correcting errors, improving the document structure, and removing obsolete content. Key enhancements made in this version include updates to the Business Architecture and the Content Metamodel. All of these changes make the TOGAF framework easier to use and maintain.
The TOGAF® 9 Level 1 & 2; Level 1 certification can provide validation that the candidate has gained knowledge of the terminology, structure, and basic concepts of TOGAF 9 standard, and understands the core principles of Enterprise Architecture and TOGAF standard.
ACCESS DURATION
120 days access to the platform
TOGAF® 9 Level 1 & 2; Level 1 ONLINE COURSE DETAILS
13 lessons (5 hours of video recorded by an accredited teacher)
Downloadable PDF documents with detailed contents (slides, explanations) for each lessons
Quizzes
1 practice test
ACCREDITATIONS
TOGAF® 9 Level 1 & 2; Level 1 course from iLEARN - Innovative Learning is accredited by The Open Group
ONE-TO-ONE COURSE FORMAT AND CHARACTERISTICS
Access 24/7
Access to the e-learning system, help included, and to all the material (videos, documents) in English
Videos for all the lessons recorded by accredited teachers
Coaching for planning learning activities;
Access to multimedia lessons "like being in class" via our proprietary platform wich combines videos and slides, course material, online quizzes, sample exams and exercises);
Set your own learning pace (speed);
Study the material offline;
Repeat any lessons at any time;
Skip lessons that are already familiar to you;
can provide end of unit quizzes to check knowledge;
Send messages to accredited teachers asking, for example, for more in-depth information and didactic support;
Mock exams;
Didactic support dedicated by accredited teachers;
One-to-one sessions to check learning and for deepening of content with accredited teacher and provided in the native language via web-conference;
Online official exam 7x24.
ONLINE EXAM FORMAT AND CHARACTERISTICS
Exam can be taken in two different modalities:
Online with the supervision of an Invigilator (OnVUE)
At a Pearson Vue Test Center
For more information about technical requirements and online exam procedure, please click here.
PDU - TOGAF® 9 Level 1 & 2; Level 1
Our TOGAF 9 Level 1 & 2; Level 1 training course can provide 16 Professional Development Units (PDUs). Here below you can find more details about the PDUs allocation:
Technical: 0
Leadership: 0
Strategic: 16
Please note that, in order to auto-declare PDUs attending this course provided by iLEARN, the purchase of the attendance confirmation (attendance certificate) in electronic format (pdf) is mandatory. Select the option to add the attendance confirmation at the moment of purchase and proceed to checkout.
For more information about PDUs and how to claim them to maintain your PMI qualifications, please visit this page.
Accreditation
The Open Group
Individual price
949,00EUR
Access duration of the course
120 days
Objectives
At the end of this course, the participants will achieve the following competences:
The key concepts of an Enterprise Architecture and TOGAF architecture framework
The basic principles of enterprise architecture based on TOGAF 9 framework
The key terminology of TOGAF 9 framework in the context of ADM
The ADM cycle and the objectives of each phase and how to adapt them in ADM
The concept of Enterprise Continuum; its aim and its component parts
How each phase contributes to the success of an enterprise architecture
ADM guidelines and techniques
How Architecture Governance contributes to the Architecture Development Cycle
The concept of Architecture View and Architecture Viewpoints and their role in communication with the stakeholders
The concept of Building Blocks
The main Deliverables in an ADM cycle
TOGAF reference model
Who it is aimed at
Enterprise architects, of all levels
People wishing to get into enterprise architecture
Anyone who wants to pass the TOGAF® 9.2 certification exam
Contents
The basic and core skills of the TOGAF framework
The Architecture Development Method (ADM), all of the phases, and the key information to know to pass the exam
Other topics covered on the exam, including Architecture Governance, Architecture Capacity, Enterprise Continuum, Capability Assessment and reference frameworks such as TRM and III-RM
Prerequisites
Some experience solving problems at the enterprise level, although familiarity with TOGAF standard is not required.
Material course language
English
Certification
TOGAF® 9 Level 1 official certificate
Exam language
English, French, Chinese (Mandarin) , Spanish (Latin American)