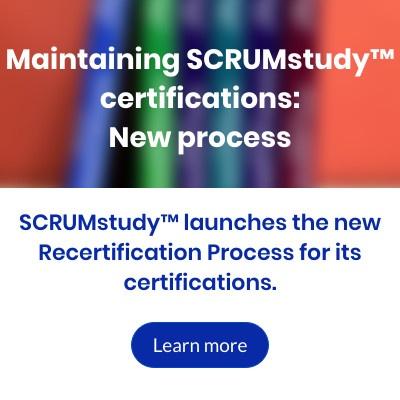 SCRUMstudy launches the new Recertification Process for its certifications.
SCRUMstudy has decided to completely overhaul the RCU (Re-certification Unit) process required to maintain the Scrum/Agile certification. As compared to the existing process of earning RCUs every three years to maintain certification, the new simplified process would require a student to just take the corresponding Recertification Exam to maintain his/her certification.
The Recertification Exam will be enabled 6 months before the certificate expiry date. All students whose certificates have already expired or expiring on or before 31st May 2020 can renew their certificates via the recertification exam process by 31st May 2020. From 1st June 2020, students whose certificates have expired can no longer renew their certificate through the recertification exam. Students with expired certificates would have to take the full certification exam. The new certificate will be valid for the next 3 years and be eligible for the recertification exam process in the last 6 months before expiry.
For further information about SCRUMstudy™ Recertification Exams, please click here.
For more information about the Recertification process and exam procedures, click here.