AXELOS® ProPath Courses
AXELOS® ProPath training courses, exams and certifications provided by iLEARN
Availability and prices of AXELOS® ProPath courses
AXELOS ProPath online courses (e-learning) with exams
In this showcase you will be able to find and purchase a selection of AXELOS ProPath online training courses with certification exam included. AXELOS ProPath training area includes: AXELOS ProPath Project Expert and AXELOS ProPath Agile Project Expert. These AXELOS ProPath courses can be attended completely online in self-paced mode on our e-learning platform. It is up to you to decide the course access duration and the account activation date. Once the course is activated you can study 24/7 wherever you want. Whenever you feel ready to take the final certification exam, just schedule your online examination on the examination portal. Information about course credentials and online exam vouchers will be sent to you by email upon purchase completion.
Shown

5

of 12
Page

1

of 3
AXELOS ProPath online certification exams
In this showcase you will be able to purchase AXELOS ProPath exam vouchers only to take the online exam on PeopleCert portal.
AXELOS PROPATH OVERVIEW
AXELOS® ProPath represents a collection of the world's most powerful project, programme and portfolio certifications, including PRINCE2®, Managing Successful Programmes (MSP®), PRINCE2 Agile®, Management of Portfolios (MoP®), Management of Risk (M_o_R®), and Portfolio, Programme and Project Offices (P3Ο®).
AXELOS® ProPath is a new approach to Project, Programme and Portfolio Management qualifications that provides a progressive development structure of best practice certifications, each specifically geared towards delivering meaningful organisational change.
ILEARN OFFER FOR AXELOS PROPATH COURSES, EXAMS AND CERTIFICATIONS
AXELOS ProPath courses are run by accredited trainers and they are designed based on solid experiences in Project, Programme and Portfolio Management.
iLEARN AXELOS ProPath courses can be attended in different ways:
AXELOS ProPath E-learning/self-paced learning: training provided through our online learning management system from anywhere and anytime
AXELOS ProPath ONE-to-ONE courses: access to e-learning platform and interactive sessions via web-conference with the accredited trainer
Distance/remote AXELOS ProPath learning: attending a live remote classroom by means of a webconference
Classic AXELOS ProPath courses

on pre-scheduled dates (upon calendar): traditional AXELOS ProPath classroom training at iLEARN premises
in-house: traditional AXELOS ProPath classroom training scheduled based on client needs and at customer's or iLEARN premises
Attending our AXELOS ProPath courses in any of our delivery options you will also get:
AXELOS ProPath training material accredited by PeopleCert and AXELOS
Official AXELOS ProPath sample papers (provided by PeopleCert)
Official AXELOS ProPath manuals (optional)
Accredited trainers support
COURSES OBJECTIVES
AXELOS® ProPath has the aim of training and certifying the knowledge of experts in the field of Project, Program and Portfolio Management.
WHO SHOULD ATTEND AXELOS PROPATH TRAINING COURSES?
AXELOS ProPath is fit-for-purpose for those who want to build on and complete their existing PPM certifications or for those who want to embark on a new PPM journey.
By completing one of more of the AXELOS ProPath routes, each candidate will gain a certified expertise in the corresponding area.
WHAT TO DO TO GET YOUR AXELOS PROPATH TRAINING COURSES, EXAMS AND CERTIFICATIONS?
You can order and attend one of our AXELOS ProPath courses or exams in a few steps:
Go on the top of the page and see the available products and training packages;
Click on the different tabs to find the course/certification/level you need;
Click on the package or service you need and read its details;
Once found the AXELOS ProPath training or exam you need, click on "Buy" at the end of the page and complete your purchase!
You can immediately pay by credit card, pay pal or by bank transfer.
For AXELOS ProPath e-learning courses your account will be activated from the date you select during the purchase process!
Do you need AXELOS ProPath courses for your company? Do you need a formal quotation? Do not hesitate to contact us.
WHY CHOOSING ILEARN FOR AXELOS PROPATH COURSES AND AXELOS PROPATH CERTIFICATIONS?
We are a strong international training company, famous for e-learning training;
We provide online courses with different access durations at different prices;
Our customer service team is loved by our customers - we give immediate support in English, French, Spanish and Italian;
Our accredited trainers are always available to provide support and tutoring to students.
WHICH ARE THE BENEFITS OF AXELOS PROPATH?
The AXELOS ProPath certification scheme provides individuals with the most effective practical guidance and endorsement of acquired knowledge on how to plan and direct the work of a group or organization, delivering value as they monitor work and its progress, and take corrective action when necessary. Professionals with the designations of the portfolio will be able to:
Be a key player for change within an organization
Gain knowledge of a range of delivery modes: including Agile, linear and hybrid
Deliver consistent results and reduce costs
Ensure the organization makes good investments
Improve speed to market by increasing efficiencies
Provide governance and deliver successful change
AXELOS PROPATH TRAINING AND CERTIFICATION LEVELS
Now you can build on your existing Project, Programme and Portfolio Management certifications or embark on your PPM journey, by selecting one of the three designations that best suits your professional needs and ensures that your achievements gain the recognition and value they deserve.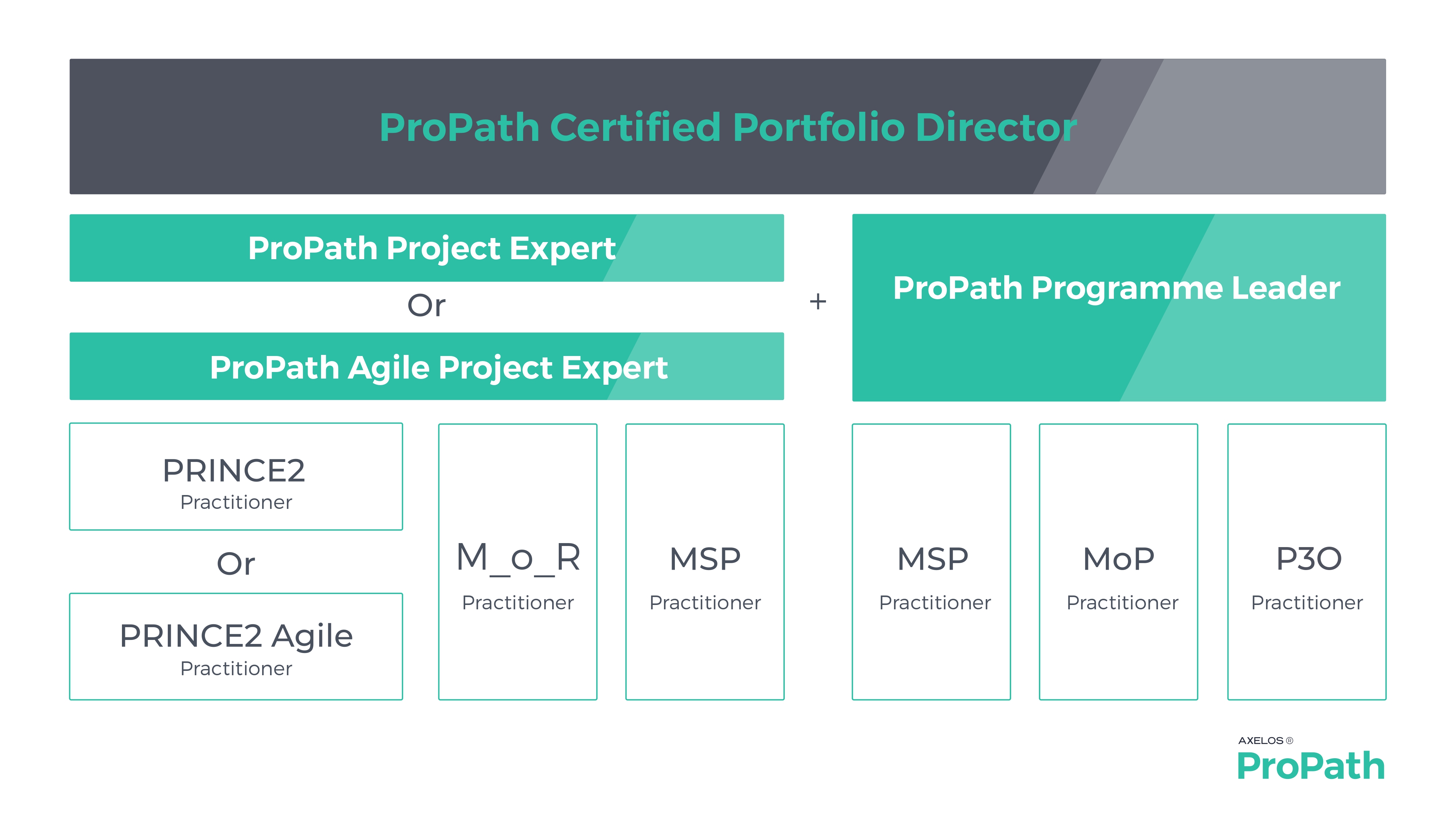 2021 © Copyright AXELOS Limited 2021. All rights reserved.
Designed for project management professionals that are looking for a holistic view of their projects. AXELOS® ProPath Project Expert strengthens the ability to deliver consistent results and helps maximize benefits and efficiencies, whilst managing risk.
This route comprises:
Created for professionals that are passionate about the flexibility and responsiveness of Agile project management. Axelos® ProPath Agile Project Expert provides the skills and guidance to help maximise benefits and manage risk, with agile delivery techniques.
This route comprises:
Crafted for professionals that are looking to increase their ability to manage the complexities of multiple projects and programmes, whilst controlling the impact of risk and maintaining alignment with corporate strategy.
This route comprises:
Combining the rigour of P3O, with the big picture focus of MSP and MoP, professionals will demonstrate their leadership that inspires and delivers.
To apply to become a ProPath Certified Portfolio Director, candidates first need to have earned:
ProPath Project Expert or ProPath Agile Project Expert
and
The ProPath Certified Portfolio Director is the ultimate designation in project, programme, and portfolio management. With this industry-leading endorsement behind you, you'll operate as a key player for change within your organization. You will use your significant expertise to plan, direct, monitor and correct the course of change, to ensure extraordinary outcomes for your organization, and for yourself.
More details on how to apply will be announced later in 2021.
PDU - AXELOS PROPATH CERTIFICATION SCHEME
iLEARN is an Authorized Training Partner (ATP) of the Project Management Institute. Our AXELOS® ProPath training courses provide Professional Development Units (PDUs). Here below you can find more details about the PDUs allocation for each level of AXELOS ProPath certification scheme:
To learn more about the PDUs allocation according to the PMI Talent Triangle and to discover all of our online training courses and exam packages for each certification level, click on one of the links above.
Please note that, in order to earn PDUs attending this course provided by iLEARN as an Authorized Training Partner (ATP), the purchase of the attendance confirmation (attendance certificate) in electronic format (pdf) is mandatory. Select the option to add the attendance confirmation at the moment of purchase and proceed to checkout.
For more information about PDUs and how to claim them to maintain your PMI qualifications, please visit this page.
USEFUL LINKS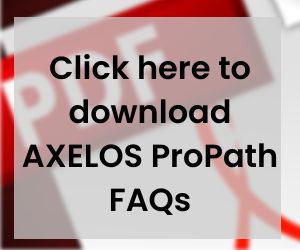 Thanks to the new App "iLEARN LMS", you can access your e-learning course from anywhere and at anytime you want on your mobile devices. Download it now!
Our e-learning platform is optimized for access via web browers, including mobile!
Subcategories