iLEARN is an ATO (Accredited Training Organization)
of APMG for the PRINCE2 Agile® course.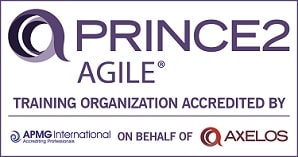 For an online verification of the accreditations, do a research with ICONS - Innovative Consulting S.r.l. of wich iLEARN is a business unit.
PRINCE2 Agile® is the world's most complete agile project management solution, combining the flexibility and responsiveness of agile with the clearly defined framework of PRINCE2®. In other words, PRINCE2 Agile combines the control of PRINCE2 with the agility of Agile.
PRINCE2 Agile is an extension module tailored for forward-thinking organizations and individuals already benefiting from PRINCE2. It provides further guidance on how to apply agile methods to the world's most recognized project management method.
Classroom courses are confirmed approximately three weeks before the actual start of the course, reaching the minimum number of participants required. For this reason, please, contact us before making any payments.
Individual price
1.390,00€
Course start date
25-04-2018
Course end date
27-04-2018
Objectives
PRINCE2 Agile has been developed as a single-tier Practitioner qualification. The purpose of the Practitioner qualification is to demonstrate that you can apply and tailor PRINCE2 Agile in a scenario situation.
A successful Practitioner candidate should be able to start applying the method to a real project but may not be sufficiently skilled to do this appropriately for all situations. Your individual project management expertise, complexity of the project and the support provided for the use of PRINCE2 Agile in your work environment will all be factors that impact what you can achieve.
PRINCE2 Agile's primary purpose
To support organizations and individuals who are using PRINCE2 and wish to extend their knowledge and understanding of Agile
To apply Agile concepts within their existing project management environment
PRINCE2 Agile will give agile users an understanding of the PRINCE2 governance and how agile concepts fit into the well-established best practice framework of the world?s most widely recognized project management framework.
Who it is aimed at
This qualification is aimed at Project Managers who hold a current PRINCE2 Practitioner qualification. It is also relevant to other key staff involved with integrating project management with product delivery. An understanding of the agile concepts within PRINCE2 Agile will also be relevant to those with governance responsibilities for projects using agile delivery approaches as well as those involved with programme and project support functions.
It will also be of interest for programme managers with MSP® who will need to understand not only how the programme relates to projects, but also how projects relate to the delivery mechanism.
Contents
The majority of PRINCE2 Agile guidance examines how PRINCE2 and agile methods can interact and be adapted to accommodate each other in order to benefit overall management of projects.
By the end of the PRINCE2 Agile course you should:
Understand the basic concepts of common agile ways of working
Understand the purpose and context for combining PRINCE2® and the agile way of working
Be able to apply and evaluate the focus areas to a project in an agile context
Be able to fix and flex the six aspects of a project in an agile context
Be able to tailor the PRINCE2 principles, themes, processes and management products to a project in an agile context
Be fully prepared to sit the PRINCE2 Agile examination.
Provided material:
Student manual: slides presented by accredited teacher with explanations
Exercises
1 official mock exam
Prerequisites
In order to purchase the PRINCE2 Agile course you must have one of the following certificates:
PRINCE2 Foundation
PRINCE2 Practitioner
Project Management Professional® (PMP)
Certified Associate in Project Management® (CAPM)
IMPA Level A® (Certified Projects Director)
IMPA Level B® (Certified Senior Project Manager)
IMPA Level C® (Certified Project Manager)
IMPA Level D®(Certified Project Management Associate)
After purchasing the course, we will ask you to send us the certificate.
To be able to take the exam, it's required to have read and accepted the terms and conditions of the examination institute. The acceptance of such terms and conditions will have to be confirmed when taking the exam.
Material course language
English
Certification
PRINCE2 Agile official certificate
PRINCE2 Agile® classroom course in from 25 April 2018 in Buenos Aires lasting 3 days provided by iLEARN Innovative Learning