DASA DevOps
Featured products
In this showcase you will find a selection of training courses and exams in the DASA DevOps context.
To look for a course or an exam specifically, you can use the "Search courses/exams prices" tool that you will find below.
If you do not see the course or exam you want, please contact us.
iLEARN is an
ATO
(Accredited Training Organization)
of
DASA
for
DevOps
courses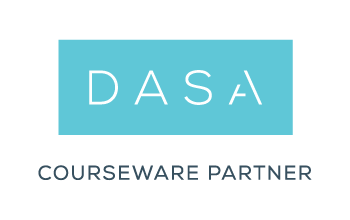 For an online verification of accreditments, do a research with iCONS - Innovative Consulting S.r.l. of which iLEARN is a business unit.
What is DASA?
DevOps Agile Skills Association (DASA) is an independent and open, members driven association supporting the development of DevOps training course and certification to the global market. Advocating the development of High-Performance IT Professionals and Teams through agile DevOps initiatives.
To Realize its Broader Purpose, DASA aims to:
Promote a knowledge and skills framework for DevOps, based on a defined set of principles.
Develop and evangelize a vendor neutral DevOps qualification program for professionals.
Generate interest and awareness for the need for knowledge and skill development.
Advance quality of training and open source certification for DevOps knowledge and skills.
Map member training content to the role based competence baseline.
DASA DEVOPS PRINCIPLES
For DASA, DevOps isn't a thing. It's not a product, standard, specification, framework or job title. DevOps is about experiences, ideas and culture to create high-performing IT organizations.
Customer-Centric Action
Create with the End in Mind
End-To-End Responsibility
Cross-Functional Autonomous Teams
Continuous Improvement
Automate Everything You Can
DASA DevOps certifications
The DASA DevOps Certification Program is designed for passionate IT professionals who want to succeed with DevOps. Every certification covers specific topics from the DASA DevOps Competence Model, helping DevOps and Agile teams to build the right mix of skills and capabilities.
DevOps Fundamentals
Provides an extensive introduction to the core agile DevOps principles covering the essential knowledge and skill competences that have been defined by DASA.
DevOps Professional Enable and Scale
Builds upon the DASA DevOps Fundamentals qualification. The key focus of DevOps Professional Enable and Scale is on the 4 skill areas required for successful DevOps results.
DASA QUALIFICATION PROGRAM
DASA identifies three broad areas of expertise, and developed a certification program designed for each profile. These programs test the practical skills and experience of professionals who feel most related to these profiles.
Copyright© DevOps Agile Skills Association LLC. All rights reserved.
ILEARN OFFER
The DASA DevOps courses can be followed in the following way:
Classic

on pre-scheduled dates: traditional classroom training course at iLEARN premises
in-house: traditional classroom training course scheduled based on client needs and at customer's or iLEARN premises

Distant-learning. following a remote classroom by means of a webconference
Furthermore, iLEARN offers only the Fundamentals level in the following ways:
E-learning: training course provided through our online learning management system from anywhere and anytime
ONE-to-ONE: access to e-learning platform and interactive sessions via web-conference with the accredited teacher
USEFUL LINKS
Thanks to the new App "iLEARN LMS", you can access your e-learning course from anywhere and at anytime you want on your mobile devices. Download it now!
DASA DevOps training courses provided by iLEARN